On a roll!
Pleasanton, Livermore women off to Italy March 28 for world bocce championships

by Janet Pelletier
Pleasanton Weekly Staff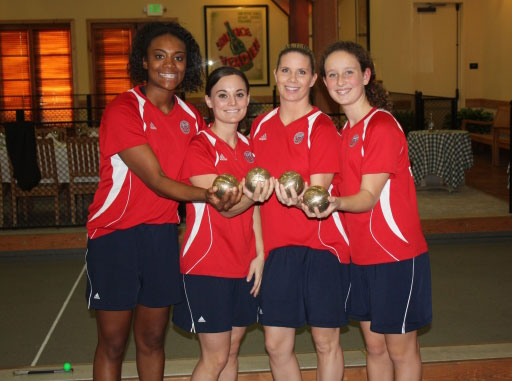 (Representing the U.S. Women's Volo team in the sport of bocce are from L-R: Salinna Grant of Livermore, Megan Wiseman of Livermore, Tiffany Garland-Martini of Pleasanton and Navinna Bernardi of Pleasanton.)
Meet Navina Bernardi, Salinna Grant, Tiffany Garland-Martini and Megan Wiseman. These four young women from Pleasanton and Livermore will be representing the United States March 28 in the World Bocce Championships in Bavagna, Italy.

They are the youngest women's team to ever represent the country for the ancient Italian sport. Practices are held twice a week at Campo di Bocce in Livermore, the unofficial mecca for bocce enthusiasts. The team is coached by Ben Musolf, who co-owns the restaurant, which features indoor and outdoor courts, and is an avid player himself.

"This is really the first time that the U.S. has had a women's youth group who will be competing on a youthful, athletic level, so it's really exciting," Musolf said.

The women earned their spots on the team after a grueling singles tryout held in November.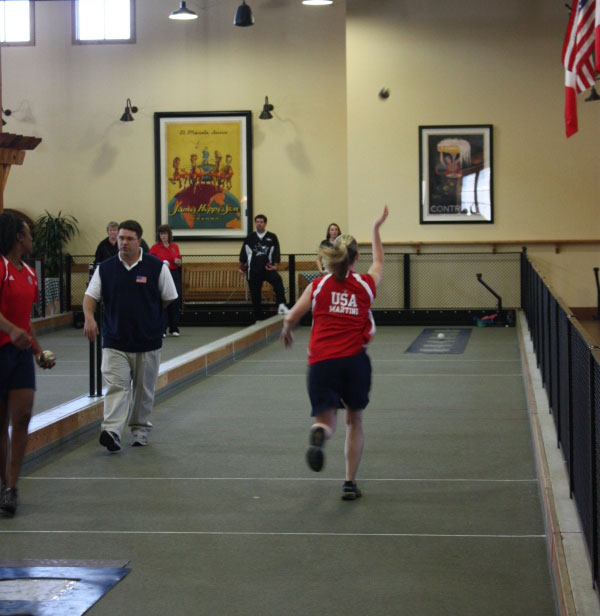 (Tiffany Garland-Martini, 32, of Pleasanton throws a bocce ball in a game where
the object is to hit another ball on the court.)
For Bernardi, the experience is one she knows she will never forget. At 14 years old, the Carondelet Catholic High School freshman is the youngest on the team.

"I come from an Italian family and remember lawn bowling growing up," she said. "What I like about the sport is that my 79-year-old grandpa and my 4-year-old cousin can play. Anybody can play this game."

Bernardi's entire family--mother, father and brother--plays the sport. Her brother Joey, 20, holds the record for shooting.

"I cannot wait to go to Italy," said her dad Dario Bernardi. "Our family is 100 percent Italian; my wife was born in northern Italy. We're hoping that some of our family members who live there are able to make the drive to watch the competition."

Also hoping for some support is Garland-Martini, whose family also originates from Italy.

"It's a shock," Garland-Martini said of her reaction to being named to the team. "You always dream about playing for the U.S. and now I'm doing it."

A Pleasanton native, the 32-year-old said she got her start playing in leagues at Campo di Bocce over two years ago.

"My mom had a stroke and bocce for her was a great rehab," she said.

She started playing more intensely soon after.

"What I really like about bocce is it's a sport where you can relax, drink wine and hang out with family and friends. I still play with my parents all the time."

And bocce truly is a sport for all ages. Coach Musolf said he can't really pinpoint a typical customer because it ranges, but if he had to narrow it down, it would be 25-55 years old.

"We have corporate team-building groups from major companies playing here, families, youths, people who come here for date night--it really is everybody," he said.

That may be surprising to those who aren't avid bocce players. History shows that bocce was first documented in a painting in 5200 B.C. and grew in popularity in the Italian region. Bocce is now the second most popular sport in Italy next to soccer (or futbol) and the second most popular ball sport in the world. Players wear similar-style jerseys.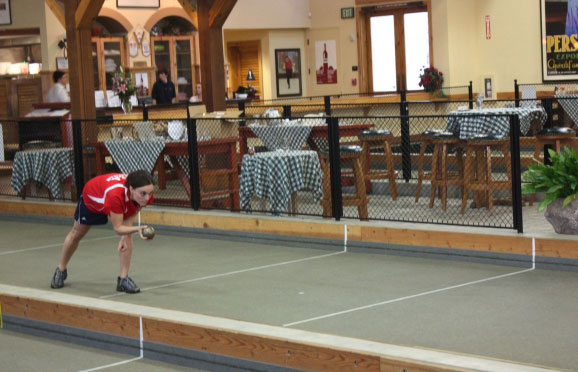 (Megan Wiseman, 24, a student at Cal State East Bay, is one of four women representing the U.S. Women's Volo Team later this month in Bavagna, Italy. Here she is practicing at Campo di Bocce in Livermore.)
Campo has played host to the 2006 North American Bocce Championships, the 2007 National Championships and will be holding the 2009 National Bocce Championships in June. In May, Campo will host perhaps its biggest draw--the 11th annual John Madden and Steve Mariucci Battle of the Bay Charity Bocce Tournament. For the first time, the charity tournament will be televised live from Livermore on ESPN.

Bocce popularity in Pleasanton is pretty apparent. There are two courts in Ruby Hill's clubhouse where tournaments are frequently played, the Pleasanton Senior Center has courts and offers games for senior citizens and a court is even planned for the recently approved senior housing community at Ironwood off Valley Avenue and Busch Road.

But bocce is not just a sport for the "mature."

"People usually don't know a lot about bocce," Garland-Martini said. "Most people stereotype it as just an older-person game." It's an image the youthful women's team is hoping they can debunk in Italy, when they compete March 28-April 5.

During the multiple-days competition, the women will compete in four events, including speed shooting, doubles speed shooting, precision shooting and doubles Volo. The four will also be joined by four other Bay Area women who play on the Punto, Raffa, Volo team: Rena Harel, Maria Narayan, Debbie O'Sullivan and Colleen Randazzo, coached by John Ross. The American team is one of 16, among the likes of Italy, France, China and Algeria.