Bocce ball tournament brings winnings to Valley Presbyterian Church
by Jane Knoerle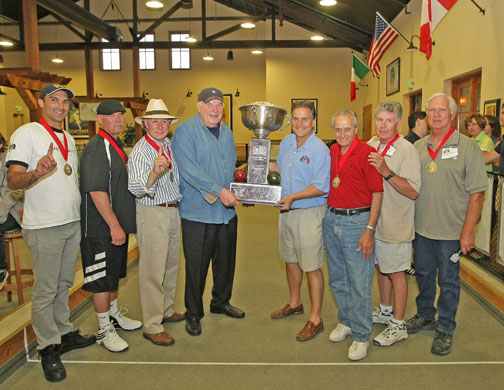 Talk about beginner's luck. David Dubbs of Woodside knew nothing about bocce ball, yet his team, "Bocce This," won the $15,000 first-place award in the 11th annual Battle of the Bay, a bocce ball tournament hosted by former Bay Area NFL coaches Steve Mariucci and John Madden.

The tournament took place June 3 at Campo di Bocce in Livermore, with 32 teams competing.

The event, created in 1999 by Mr. Mariucci, has raised more than $3 million for Bay Area charities. Mr. Dubbs' charity of choice was Valley Presbyterian Church in Portola Valley.

A member of Valley Presbyterian Church for nine years, Mr. Dubbs says the church "is very deserving," and notes that its staff has taken salary cuts, due to the poor economy.

Mr. Dubbs, who runs a sports production company, was encouraged by a business colleague to enter a bocce team in this year's competition. "We were collaborating on a television project and wanted to engage certain professional athletes. I was told we might be able promote our concept by supporting Mariucci's bocce event," he says. "So I agreed and signed up under my production company, Windy Hill Productions."

Since he knew nothing about bocce ball, Mr. Dubbs called a former business partner in a consulting company, Gene D'Ovidio, to help him put together a team. They had shared an office in San Francisco's Ghirardelli Square across the street from Aquatic Park.

Benji Tosi, the top-ranked volo bocce player in the country, runs the Aquatic Park Bocce Center. While volo bocce is different from the open-style played at the tournament, Mr. Tosi agreed to play and recruited "some very good players," says Mr. Dubbs.

"While we breezed through the preliminary rounds, the level of competition picked up in the round of 16. From the round of 8 forward, 'Bocce This' had to come from behind in every match. The final match was played against the Ponderosa Rollers. The game, which is played to 10 points, was a see-saw battle with two exceptionally good teams," he says.

The Rev. Mark Goodman-Morris, co-pastor of Valley Presbyterian Church, was on hand to cheer the winning team. He brought along Mr. Dubbs' son, Andrew, who has just graduated from eighth grade at Woodside Priory.

When Steve Mariucci called Mr. Dubbs to thank him for entering a team in the tournament, the two men found even more common ground: It turns out that Mr. Mariucci's daughter and Andrew Dubbs will both attend St. Francis High School in Mountain View this fall.