Sunday, September 14, 2003
A bit of Rome rolls into Aquatic Park in San Francisco -
Local bocce players aim for global glory.
Julian Guthrie, Chronicle Staff Writer
Chronicle photos by Katy Raddatz


Bocce ball enthusiast Marco Cuneo cuts a graceful silhouette at San Francisco's Aquatic Park as he practices for next month's championship competition.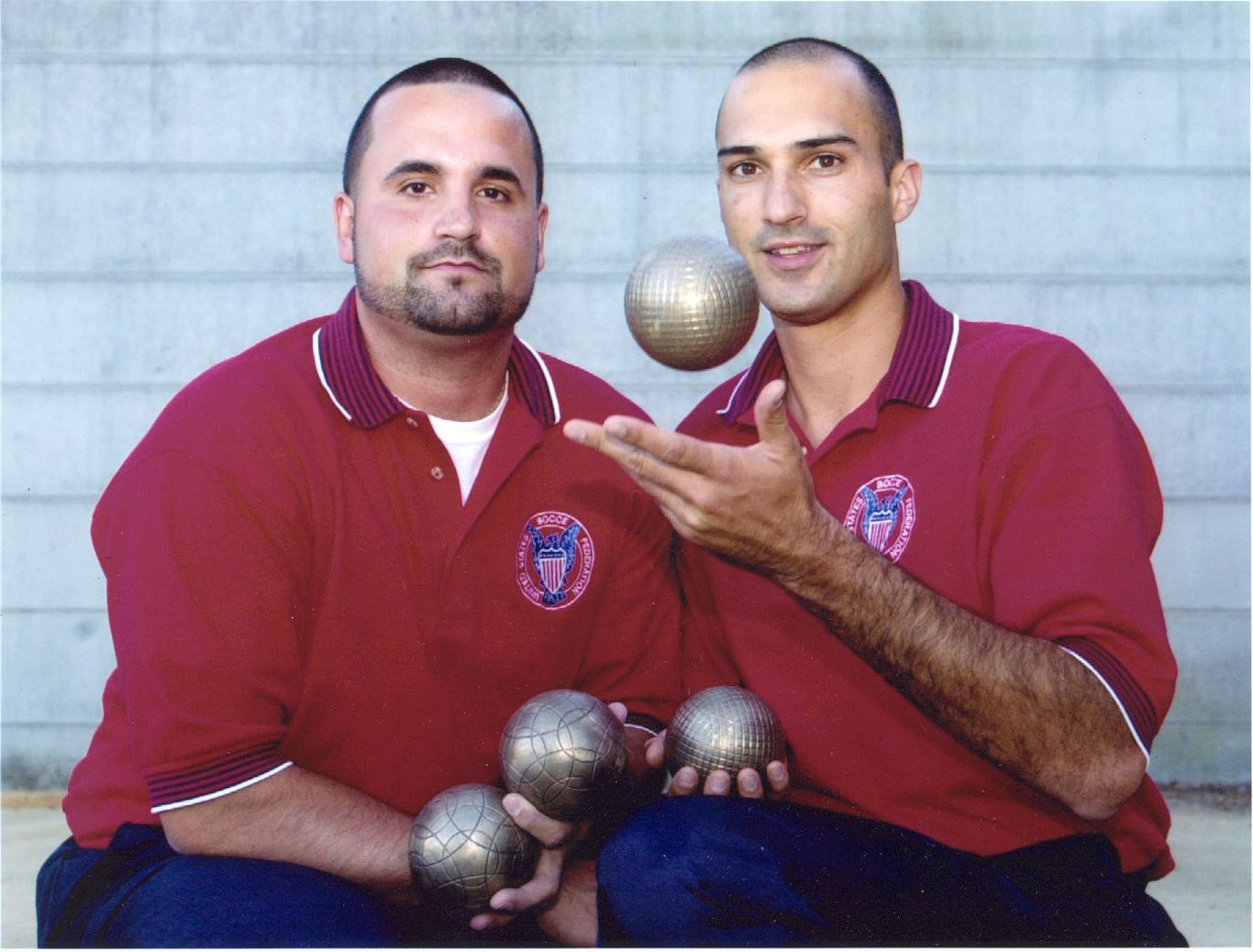 San Franciscans Marco Cuneo, left, and Benjamin Tosi will be heading to France in October as
part of the U.S. Bocce team.
On a small and dusty patch of priceless land, two men are preparing for the competition of their lives.
The young men, clad in crisp, matching uniforms, emerge at dusk from a weathered white shack. They wear hidden talismans and carry the tools of their trade. As they roll and toss, measure and tally, they dream -- of winning a world championship and bringing their beloved game to the untapped masses.
Ben jamin Tosi, 27, and Marco Cuneo, 30, are bocce players. Their tiny clubhouse, thick with character and cobwebs, is the Aquatic Park Bocce Ball Club in San Francisco. In October, the two San Franciscans will be part of a four-person team representing the United States in the world bocce championships in Nice, France. Thirty-four teams from six continents will compete in the biannual event.
In the competitive world of bocce -- played with brass balls rolled or thrown on an elongated court -- the United States is a relative weakling. While there are as many as 250 bocce clubs and 100,000 members in the United States, according to some estimates, the game has yet to enter the mainstream. Bocce has been largely relegated to weekend barbecues and Italian enclaves.
Bay Area bocce enthusiasts say the game is gaining popularity. The Northern California bocce championship, held in July at the Martinez Bocce Club, drew 26 teams.
COMPETITIVE OR SOCIAL PLAY
"Anyone from 8 years old to 108 years old can play bocce," said Keith Tate, a bocce aficionado and director of the Martinez club, which has 1,200 members." You can get as serious as you want or make it as social as you want."
Tate said he will cheer on the local underdogs in the World Volo Bocce Championships, to begin Oct. 7.
"Marco's dad was one of the best players in the U.S.," Tate said." He started Marco out early. Marco, who is a good technician and athlete, has taken Ben , who has a real natural talent, under his wing."
Tosi, a Fresno native who happened upon the Aquatic Park courts two years ago while working parking cars at a nearby restaurant, and Cuneo, born and reared in North Beach on a steady diet of bocce, are the newest defenders and reformers of the ancient game.
"Marco is really driven because he loves the game and also because he wants to carry on the legacy of his father" -- a nine-time national champion, said Tosi." I tell people that I play bocce and they say, 'Oh, yeah, the game
with old Italian guys.' I am determined to show that young people can play this game and that it's really amazing."
Bocce likely originated in Rome around 264 B.C., according to the United States Bocce Federation. Between
battles, Roman soldiers were said to have selected a small stone called a leader, to throw first. Larger stones
were then thrown and the stone coming closest to the leader would score.
Today's standard bocce is a 4 1/2-inch ball weighing about 3 pounds. It is rolled as close as possible to the "pallino"
a 1 3/4-inch ball rolled down the alley first. Twelve points constitute a game, except in some tournaments, when the
winner is the first person to achieve 13 points.
BOWLING, BALLET, SOFTBALL
Tosi and Cuneo play a version of bocce called "volo," in which brass balls - - intricately patterned and costing $60
apiece -- are rolled or tossed underhand 50 feet or more. The style is equal parts bowling, ballet and softball windup.
At a practice session last week, Tosi and Cuneo exuded enthusiasm and contagious good cheer. They talked
animatedly of their dreams for the sport and the Aquatic Park club. They eagerly demonstrated their precise yet fluid
moves.
The bocce club, situated at the end of Beach Street near the Maritime Museum, with a breath-taking view of Alcatraz
and San Francisco Bay, once had seven courts and 120 members. It now has three courts, made of a mixture of
dirt-clay and pulverized oyster shells, and 50 members. Most days, a small group of Italian men gather to play at 1 p.m.,
as they have for decades.
The clubhouse is also a favorite stopover for the city's flock of wild parrots, a family of feral cats and a friendly skunk.
Tosi and Cuneo hope to draw a new generation to the charming but little known slice of San Francisco. They
envision a new clubhouse (or at least fresh paint), a new TV, pots of flowers, more than one lightbulb, lights for
nighttime play, a table and chairs, and an espresso machine.
Tosi, an events planner at the University of San Francisco, became club secretary in January. He is on a mission to
boost membership. When Tosi became secretary, the club had $600 in its coffers. It now has $1,300, Tosi notes proudly.
Asked what it takes to join, Tosi smiled and said, "You gotta talk to me. We have to believe you're a good person,
and you gotta give me 20 bucks."
Cuneo, a pharmacy technician at Walgreens who has marveled at his new friend's commitment to the game, said,
"We have a plan. We want to do a lot of things, including get bocce into the Olympics. But for now, we are
focusing on Nice."
The two earned spots on the U.S. team by winning gold medals at the National Bocce Championships held
in June in Highwood, Ill. The other U.S. team members are from Chicago and Florida.
EUROPEAN DOMINATION
Typically, teams from Italy, France and Croatia dominate the world competitions. Team members from
those countries train year-round and are paid salaries.
Cuneo and Tosi are training hard after hours.
"It's about concentration and repetition," said Cuneo, taking a jogging run and tossing a bocce into the air and
hitting Tosi's ball out of the game with laser-like precision. In addition to practice, Cuneo plans to wear his
bocce shoes, purchased in Italy, and a ring and charm owned by his late father.
Tosi, holding a rag in one hand and brass ball in the other, said that bocce has become a happy obsession.
It inspires and confounds him, demands mental acuity and physical dexterity. He attributes the personal twist
of fate to serendipity and curiosity.
"It's pretty amazing," Tosi said, foghorns bellowing in the background. "I parked cars at this restaurant. I found
this club. I got to know these old guys playing here. Some were past national champions. Some wouldn't give
me the time of day. They wondered who this kid was who kept showing up every single day to watch."
One night, he met Cuneo, who became his mentor, talking to him about the international competitions.
"Now I'm on the national team. I'm going to Europe. I'm in Sports Illustrated. Everywhere I go, people say,
'There's the bocce guy.' "

E-mail Julian Guthrie at jguthrie@sfchronicle.com .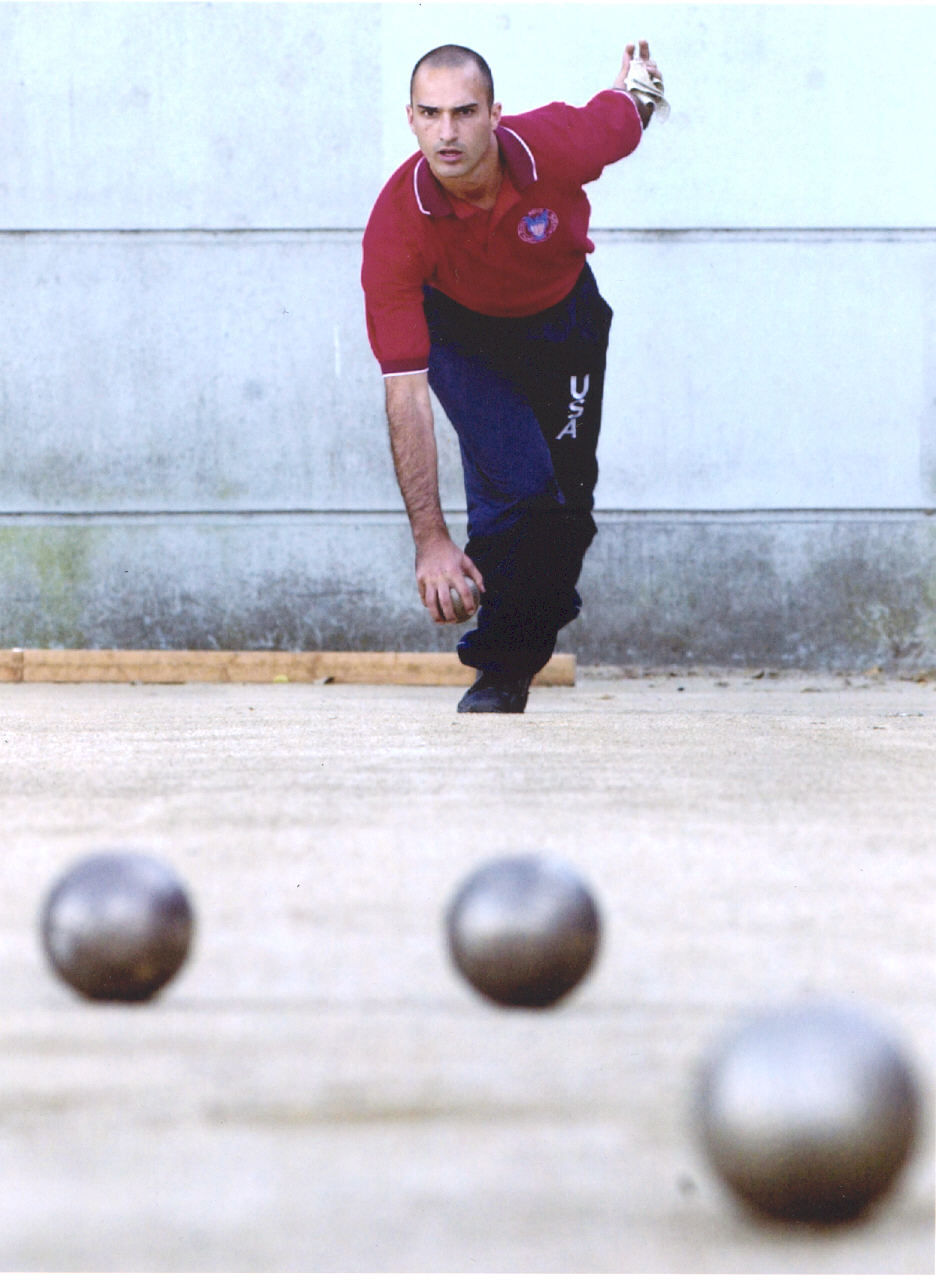 Benjamin Tosi concentrates as he prepares to release a bocci ball during practice for
international championship competition, which takes place in Nice, France, next month.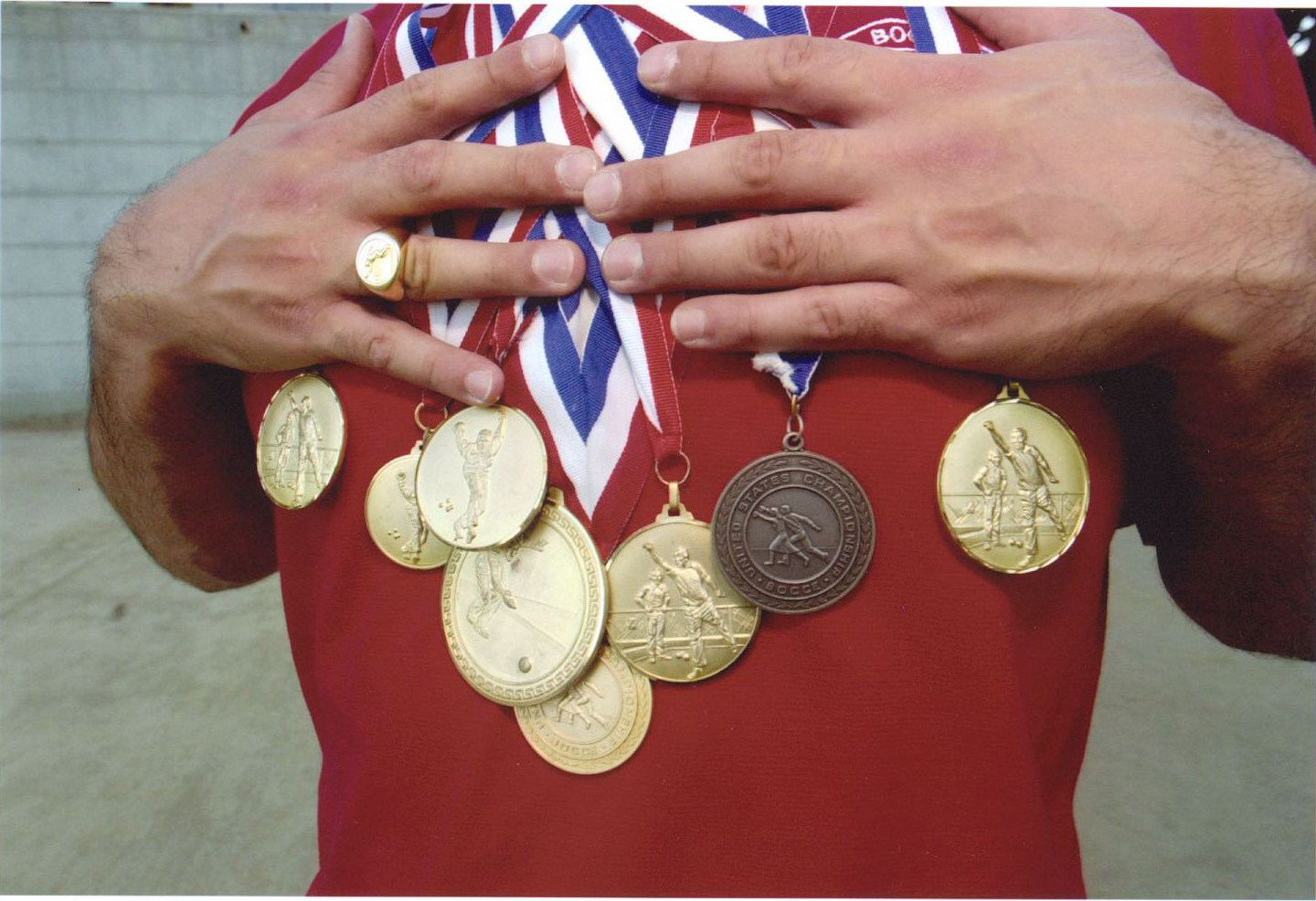 Marco Cuneo displays a chestful of medals, his late father
was a nine-time national champion from North Beach.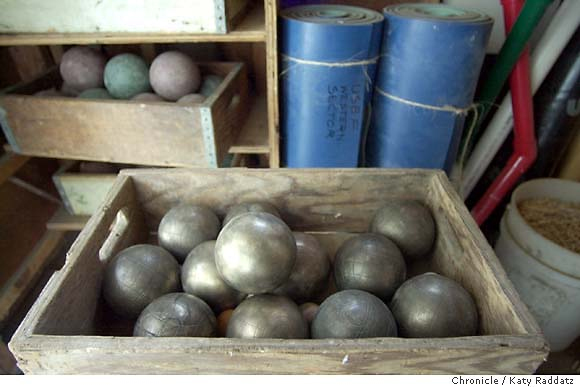 Boxes of bocce balls are kept in storage at a clubhouse in San Francisco's Aquatic Park.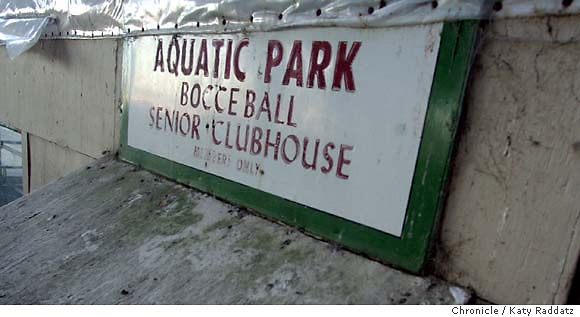 The club's sign is not exactly the newest sign in the city, but the words make clear the
structure's purpose.