The Bold Italic
Bowled Over - Aaron Britt Courts Local Bocce
Before I set out on this search for San Francisco's bocce scene, I thought that nearly any patch of dirt would do for that great Italian pastime so long as you've got these four things: a set of balls, a free hand for a drink (pastis, please), at least one other player and a penchant for argument. From Dolores to Golden Gate Park, weekend revelers disposed toward public drinking and civil disputation seem to be taking to the game like an Italian Prime Minister to an 18-year old beauty queen.
Yet for all the romance of weekends whiled away in the presence of Dolores Park hipsters in ill-fitting cutoffs, I wanted to find out where the city's real heavy rollers play. The Bay Area has the highest concentration of boules players (petanque, bocce and lawn bowling all fall under boules) in the nation. And if these sportsmen happen to be of the crusty, old and Euro variety, and I could score a little prosecco in the process, all the better.

My first stop was the newest courts in the city, just behind the North Beach branch of the public library, at Joe Dimaggio Playground. I thought for sure I'd find the old Italians I'd imagined, berating one another in Italian and English, arguing the validity of a shot and generally doing whatever it takes to get away from their wives for a sunny afternoon. The kind of whom Lawrence Ferlinghetti wrote in his 1979 poem "The Old Italians Dying," "You have seen them sitting there/Waiting for the bocci ball to stop rolling/Waiting for the bell to stop tolling & tolling/for the slow bell to be finished tolling."

Fenced off from easy public access, it turns out that unlike the local barbershops, drop-ins at these nice new courts are unwelcome. You need to make a reservation through the Dimaggio Playground to use the courts at all, which are only open from 10:00 AM to 5:00 PM on weekdays, three hours on Saturdays and not at all on Sundays.

Disheartened by the early returns on my bocce search, I altered course, this time toward petanque. The last time I had really played petanque was on a picnic on a small island in the Loire not far from Angers, France. This time I found myself not on the charmant banks of some lazy Gallic river, but in Golden Gate Park somewhere between the dog run and the buffalo paddock. I'd chatted with John Krauer, president of La Boule d'Or, our local petanque club, on the phone a day or two earlier and he'd directed me to this spot to roll a game with les anciens.

Krauer was nowhere to be seen, but I did get just what I wanted: a noisy lot of Frenchmen and Americans, shuffling around an expanse of dirt chasing small metal balls, winding each other up, and slowly lowering their bodies to the ground to measure the distance between their dusty spheres.

Jacques Manuera, owner and chef at Baker Street Bistro, was the first to come over to chat. Though once it became clear to the others - Stanley a wise-guy Czech who grew up in France, and Charlie, an impish septuagenarian from Alsace - that I spoke decent French, I was immediately invited in. I got no attention at all from Rene, though, who was the archetype of the crusty Frenchman: unfriendly and surly with a fine Gallic nose, tweed cap, stained sweater and the best shot of the group.

Unlike bocce, petanque is a roving game. At the end of each frame the cochinet (the little target ball) is tossed to another spot on the large dirt court and a small circle is drawn in the sand from which all players must toss their balls. There are two ways to play your ball: you either point or shoot. Pointing is when you toss the ball with the intent of getting it closest to the cochinet and shooting is when you cast your ball into the air with the aim of knocking an opponent's ball out of the way.

Rene does both adroitly (and also at one point left the game to go piss on a tree in full view of everyone). I turned out to be a decent pointer, and with a bit of practice, I might just amount to something.

Luckily, casual players are always welcome. And unlike bocce, a layman can pick up the broad strokes fairly easily. And considering how nice, funny and charmingly impish these guys were, be sure to stop by. Just be prepared to stick up for yourself, take a little ribbing, and loudly point out the most obvious cheating.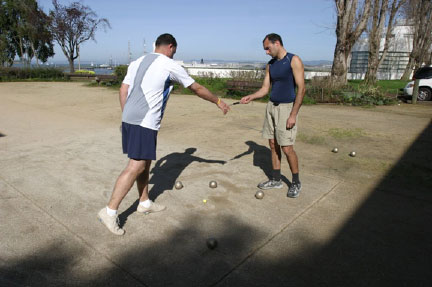 Photo by Sara Wolfram

Though petanque was good fun, I still wanted to find the current pulse of the city's bocce scene. Last Saturday I found it beating at the Aquatic Park Bocce Courts.

Just back from competing in Macon, France at the World Bocce Championships, Benji Tosi is perhaps the most serious bocce Volo player in the country. He and his teammate Marco Cuneo are the best Volo players in the States, though even they'll admit there's little competition for the title. "Nobody really plays this style much anymore," said Benji, who is also the president of the Aquatic Park Bocceball Club. "We're the keepers of the grail," Marco added.

I happened to meet up with Benji when he'd arranged to play with Roberto Fontana, a hot-shooting Italian in town on business. All at once it was clear that these two athletic young men were a far cry from the oldsters who I'd seen playing at the Aquatic Club courts in the past. Dressed in warm-up pants and cross-trainers, they attacked each other's balls, hurling their bronze orbs into the air at a near run.

Benji calls Volo "sport bocce" and he's right. A rigid structure governed the game as they marked their balls' positions with a small tool called a baccheta, calculated the 50 cm radius in which a player could strike another's ball, and called their shots. This narrow margin for error and exacting measuring separates the great from the merely good, and any shot that falls short of this rigorous accounting is, as Benji puts it, "slop."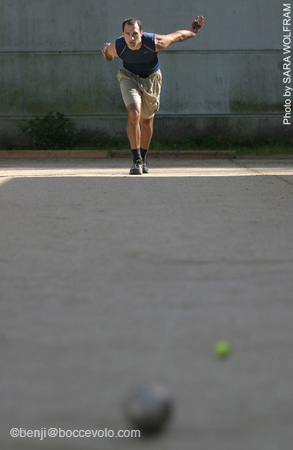 Photos by Sara Wolfram

"This isn't picnic bocce," he told me. Nor are the balls he plays with. Most inexpensive bocce sets, the kind you find at sporting goods stores, are made of resin. Bocce Volo is played with a set of $300 bronze balls custom made to the player's hand that Benji imports. Jacque is your man to score a French petanque set.

After Benji and Roberto gave me a quick lesson in the far more difficult Volo brand of pointing and shooting, we split into two teams for a game. Benji and I paired up, as did Roberto and his friend Andrea, also a novice. I pointed. Benji shot. Good fun, but we Yanks ultimately lost to the two Italians though, largely through the offices of Roberto's crack shooting.

Though the day was perfect, by the time our quartet had finished there was no one waiting to take our places, and two empty courts to spare. Carlo Tarrone, an old gent from Turin who said that 50 years ago a day like this would easily see 100 bocce players out at the Aquatic Park, had only come to watch. On a perfect autumn afternoon, the bell, it seemed, was tolling.

I caught up with Benji a couple days later for lunch at the Bocce Café on Green St. in North Beach. Though no bocce courts were apparent at the restaurant, the waiter told me that some 20 years ago there were courts where the back patio now sits. Now, only the name remains.

I asked Benji about the fate of the game here in San Francisco. Was it, like the name of the restaurant in which we chatted over calamari and pasta, destined to be some vestige of the city's past?

As I researched the local bocce scene, I heard the same story at the Italian American Athletic Club and at Mario's Bohemian Cigar Store: Sure, we love bocce, but no one plays anymore.

Benji's version was slightly different. "Bocce is actually really popular right now," he told me. "But what most people call bocce, I call 'open.' It's the kind that you learn in five minutes and appeals to this romantic idea of playing an ancient game while getting drunk. There's a resurgence in open, but the bocce I play, the real bocce ball, that's what's dying."

For a purist like Benji, only a move to Europe would surround him with enough like-minded players to really give him a challenge and a community.

And though I'm sympathetic to Benji's cause, I can't help but feel a certain enthusiasm in seeing bocce, even the beginner's version, on the march. Granted, my own predilection for a lazy game requiring little skill is not the most impressive form of the sport, but it's good to know that when I tire of rolling balls in the grass, there's a place for me, just past Ghirardelli Square, where a handful of old Italians still meet on sunny afternoons to roll their metal balls, recall their sap-filled days and watch a pair of their grandsons carry on a San Francisco tradition that, though ailing, is most assuredly not dead.